INRI
INRI CRISTO
THIS IS THE NAME THAT COST
TO THE SON OF GOD THE PRICE OF BLOOD
The initials I.N.R.I have many meanings, but there is a higher purpose for its existence. Two thousand years ago, GOD inspired Pilate to write on the cross, above the Messiah's head, the name that he would use in his coming incarnation: INRI (see Revelation c.3 v.12: "To whom that wins… I will write upon him the name of my GOD… and my new name").
INRI CRISTO is the Son of GOD's new name. He reincarnated and lives in Brazil. For more than forty years, he has been asserting to the world that he returned upon Earth in bone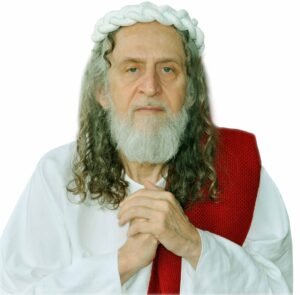 and flesh, not directly from heaven, as the "evanjackasses" assert, but reborn from the womb of a woman. Christ has never been physically to heaven, only spiritually. The Son of GOD's physical ascension to heaven a dogmatic lure, the stumbling stone of humanity (see the teaching on Resurrection: http://inricristo.org/resurrection-christs-physical-ascension-to-heaven-is-a-dogmatic-snare-the-stumbling-stone-of-christianity/ ).
In the current incarnation, after fulfilling his mission on Earth, the Messiah's hair will be white as snow, fulfilling Apocalypse c.1 v.14. Every eye of the world shall see him (Revelation c.1 v.7) and he will be recognized by his flock (John c.10 v.4).
INRI is the name that cost the price of blood on the cross. And CHRIST, in the translation of the Greek, means the anointed, in the singular.
*See ENIGMA OF THE NEW NAME: http://inricristo.org/the-enigma-of-the-new-name/ .
*INRI CRISTO's official websites: www.inricristo.org / www.inricristo.org.br / www.inricristo.net.
The definitions of the name INRI are related to the Messiah:
In Latin: Iēsus Nazarēnus Rēx Iūdaeōrum (JESUS OF NAZARETH, KING OF JEWS)  
In Hebrew: Iammim Nour Rouahh Iabescheh (WATER, FIRE, EARTH, AIR)
In the alchemical tradition: Igni Natura Renovatur Integra (NATURE IS COMPLETELY RENEWED BY FIRE).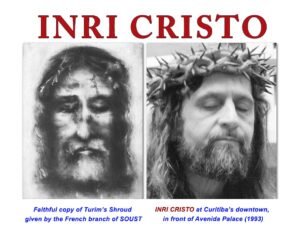 *Faithful copy of Turim's Shroud given by the French branch of SOUST
*INRI CRISTO at Curitiba's downtown, in front of Avenida Palace (1993)
Assinoê Vit Olivier
INRI CRISTO's disciple and Public Relations.